Product parameters
Large size: 40cm
Trumpet: 34cm
Material: flannel, soft rubber
Features
High-quality silk cloth material, soft and delicate, realistic shape, full and three-dimensional flowers. High-quality environmental protection dyeing, not easy to fade and deform. Plastic branches with clear texture and realistic shape. It is made with different flowers and has a stylish and beautiful shape. The flower stem is lined with iron wire, which can be bent and pruned as required. If the petals get dusty, it is recommended to use a soft brush to clean the petals and leaves.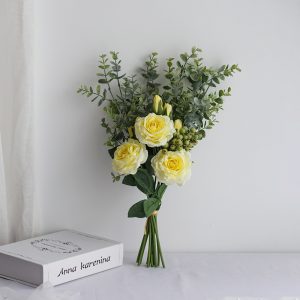 Advantage
1. Green and environmental protection
The artificial flower raw materials mainly include: plastic products, silk products, polyester products, and materials made of resin clay. In addition, metal bars, glass tubes, blown paper, fiber filaments, decorative paper, ribbons, etc. are used. No pollution or little pollution. Due to the elasticity of the material, it can be matched with the model of special height and shape, and it can keep the green color and break the limit of authenticity. The image is vivid, lively and beautiful, and can be compared with the flowers and plants.
2. Less affected by the environment
Most public places and offices use air conditioners. The indoor light is often insufficient. Therefore, it is not easy to plant a plant indoors. However, artificial flowers can easily achieve the color of artificial flowers and plants for this purpose. The seasons are the same, and will not be as dry and dry as the plants and flowers.
3. Easy maintenance
The branches and leaves of artificial flowers are not moldy, do not rot, do not need watering, do not breed mosquitoes and flies; artificial flowers do not need to be artificially cultivated, which can save troubles such as watering, pruning, and worming; artificial flowers do not need photosynthesis, no children The side effects of eating and hurting people are very suitable for families with children and old people at home and husband and wife to work.
4. Convenient transportation
Some artificial flowers are also much lower than real flowers, convenient transportation, easy to carry: when you need to change the design, re-combining and matching, can change different atmospheres. Suitable for the public family to beautify the environment, and enduring.