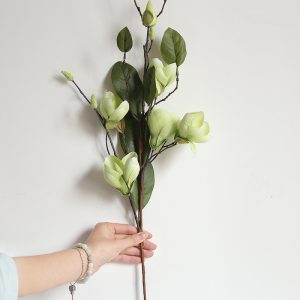 Product parameters
Overall length: 790mm
Flower diameter: 65mm, 45mm, 30mm
Flower height: 70mm, 50mm, 45mm
Weight: 57g
Material: Panbu
Characteristics
The high-quality Panbu material is used to enrich the gradual color treatment, which makes the flowers full of three-dimensional, natural color transition, realistic shape, and reflects the good technology. The brown branches are clear in texture and exquisite in detail, and the simulation is extremely high.
Flower meaning
The shape of magnolia is very similar to lotus, but it is different. When in full bloom, the petals are displayed in all directions, making the courtyard green and white, dazzling white, with high ornamental value; together with the fragrance, it is the ideal flower to beautify the courtyard. The flowers are unusually stunning, full of flowers and flowers, and the leaves are stretched and full, but the flowering period is short, but it is particularly gorgeous when it is open. It represents a lonely and desperate courage, elegant and generous.
Magnolia often produces large rounds of white flowers in a greenery. With the fragrant scent, it feels an indescribable temperament, and it is fresh and pleasing. Because of its tall grass, the flowering position is high, and it is swaying in the wind, and it looks like a beautiful woman. It is very cute.